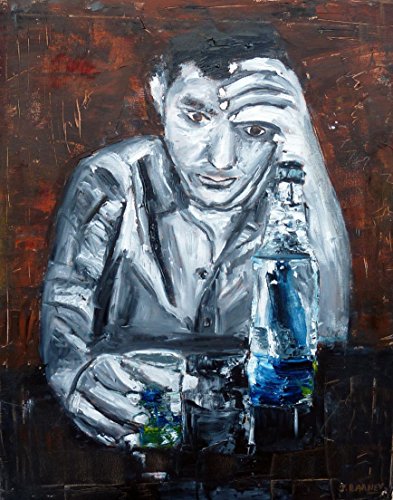 By Samuel Sebbowa Bunnya, Uganda
"My Kirabo is being cold," he said on a sigh.
"So, her name is Kirabo." Birungi pointed out the obvious. "Why do you say she is being cold?"
All the feelings of the pain hurt and anger came flooding through his body like an avalanche. Isaac looked away as he felt dam break. He was alone and she rescued him, and now it felt like she was abandoning him to his loneliness after showing him the light. Isaac did not know what he had done. He wanted to know because he did not want to lose the beautiful companionship he had found in Kirabo.
He could not help it any longer. The tears came out of his eyes without his permission. He felt the stabbing feeling in his heart as he silently cried. The loud music made it easy for him to hide his sobs. His head fell into his hands as he let it out. All the loneliness he had felt for years before Kirabo and the loneliness he was starting to feel made him cry.
"There there Isaac." He had not seen Birungi move closer. She was patting his back like a friend would. "It is going to be okay."
"You're…" he sniffed. "…not bothered by a man crying."
"You'd be surprised at the number of men I have seen cry," Birungi said. She kept rubbing his back. "So are you going to tell me what happened?"
"That's the thing…I don't know," Isaac admitted.
"Have you talked to her?"
"And say what?" Isaac demanded.
"What you feel." Birungi offered her glass of Krest to Isaac. "Think about it…go to this Kirabo and tell her how you feel. Tell her how important she is to you instead of wallowing away on that red stuff."
Isaac took her glass and sipped the drink. It was the same drink that Kirabo loved except she'd replace the Krest with a Tonic Water. Isaac looked at Birungi who had a flat expression on her face.
"What if I do not like what she says?"
"Then honestly, you're still a young boy," Birungi countered.
"I am twenty-five and she is twenty-four," Isaac pointed out.
"Then you must be able to talk through things," Birungi pointed out.
"How?"
"You know you might be over thinking it Isaac."
"I am not."
Birungi shook her head. "You might be the centre of her universe and that is all that matters. But being the centre does not mean that she will be focussed on you always. We ladies are a complicated species."
"No…I know my Kirabo," Isaac insisted. "If she is being cold, I must have done something to make her that way."
"Trust me you did not."
"How can you be so sure?" Isaac asked.
Birungi put her hand out. "Give me your phone."
"Why?"
"So I can help your sorry ass," Birungi said.
Isaac handed her his phone. She did everything at angle that enabled Isaac to see what she was doing. Birungi scrolled through his contacts and smiled when she saw that he referred to Kirabo as Beautiful. Birungi clicked on her contact and went to the Video Message tab. She hit record and put the camera in Isaac's face before turning it to herself.
"Hi Kirabo," she began. "I am Birungi and I met your man Isaac at Sketchers Bar. He was drinking wine and looked just so sad and lonely. I offered him a drink and some company. One thing I have learnt is that this idiot loves you like his own life. Whatever he did, tell him. If there is nothing, give him some reassurance. He needs it and you like the very air that we breathe."
Isaac was mortified. He lunged for his phone but he was too late. Birungi had hit send and the message had gone. Birungi laughed crudely as she handed him the phone. He glared at her, but Birungi seemed unbothered.
"Why did you do that?"
"You'll thank me later," Birungi quipped as she started sipping Isaac's wine.
"What do I do now?" Isaac was starting to sweat. "She is going to think I am cheating on her."
Birungi choked on the wine. "Be serious. You are not my type. I just helped you out. All you are going to do is wait and see magic."
It seemed like an eternity as Isaac sat on his stool. He did not know what to expect. His eyes remained on his phone. Only fifteen minutes had passed since Birungi had sent Kirabo that strange video. He knew Kirabo was bound to call at any moment. Not even the music from the speakers all around them could make Isaac forget the trepidation that he felt. Birungi had probably put him in a hot mess with Kirabo.
He glanced at Birungi who had ordered another round of drinks. She did not seem at all bothered. If anything she was amused by Isaac's state of mind. The times she caught his glances she would smile and laugh. She did not bother to offer Isaac any more conversation. Her long legs were crossed as she sat there taking small sips of her drink. Isaac had not touched the second glass of wine she had bought him.
The moment of truth finally arrived and it was not what lonely Isaac was expecting. He heard her voice call out his name and turned in his seat looking for her.
He smelt her lavender and cinnamon perfume from a distance away. He turned to see his beautiful Kirabo eyeing him calmly. Isaac's heart did a little flip as she started to approach the counter through the almost empty bar. Her shoes clicked on the floor as she walked towards them. She ignored the intoxicated patrons who tried to call out to her. She had eyes for only him.
The black pants that she wore hugged her beautiful hips. The bright yellow turtle neck top she wore also hugged her bosom and slender waist bringing the desire to Isaac's heart. Her long dark braids hang loosely down to the small of her back and she held her big red bag that Isaac had bought her last Christmas.
1,626 total views, 4 views today