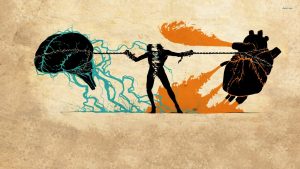 By Ayanda Xaba, South Africa:
Many people don't understand my relationship with Sipho. He's the one person who understands me completely. We met when I was 19, my first year in varsity. I'd already been to juvenile prison and a mental institution. He was my first boyfriend, first friend, and the first family member of my own choosing. I was lost; I didn't know where to go. All I knew was that my tuition and residence was fully paid for, thanks to my parents' life cover. I was still at the mental institution when the money was released, one of the workers there helped me get all the papers in order. I wanted to do something sensible with the money, and to never go back to Vryheid. When I heard I was being released I spoke to the same nurse who helped me apply to the University of Johannesburg. I'm still thankful for correctional services for that matric certificate! I had a chance to create a new life and leave the past behind.
Sipho was doing his second year in B.Com Accounting when we met, he helped me enroll in the same course. I'm good with numbers so that was a breeze. I opened up to him about my past, surprisingly he accepted me with all the baggage. I was diagnosed with schizophrenia in my second year in the juvenile prison, which is the reason I was transferred to the mental institution. I was a good patient, 12 months were enough for me. Even though I went in for regular visits; my hallucinations started coming back, and it got worse during the first December holidays in varsity. Sipho invited me to stay with him in his flat during the holidays because I had no home to go back to. He helped me despite all the madness I went through. The following year he dropped Accounting and studied Psychology. He did it for me, to better understand me, and I love him for that. He is currently busy with his masters and he is investigating further treatment and possible cures for schizophrenia. Yes, I'm his research project.
Of all the things that could go wrong in my life, there must be something I did right because God sent me an angel. Sipho is from a good background and his parents sent him a lot of money in varsity, he made sure I never suffered. It was his idea that we move to Petermaritzburg; where we are now, so we can have yet another clean start. I insisted we bring Lebo so we can all job hunt this side. He agreed and we had to get separate places to live in – we need that.
My graduation present was a trip to Durban. It wasn't just the ocean he took me to, but also enrolled me in a tattoo academy. I was over the moon, that week was the best week of my life. You can imagine the action we had since I was working with needles everyday for 5 days straight – glorious! I became a professional tattoo artist then, which is what I do in my free time. I'm a financial consultant by day and a tattoo artist by night.
—-
"Oh you're home!" Lebo says barging into my room.
I'm home, sick, I think I need to consider changing this medication again. Sipho is excited about the pregnancy, not just about the baby but his studies as well. He says it's an interesting twist.
"Yes, I'm not feeling well. Why are you not at work?"
"Zweli died."
Shit! I had a shot a few minutes ago so I can't show any emotion. I really wish I could fake surprise right now.
"Lebo!" I say slowly, "Sorry, sisi."
She starts breathing heavily, she's angry. I sit up straight and wait for the rain of tears. I feel bad that I'm the result of her pain this time around, it's worse because I can't tell her.
"You killed him! You killed my fiance, you crazy bitch!"
Okay, I didn't expect that.
"But how?" That's all I manage to say, I wish Sipho was here.
"Why would you do this to me?"
"How did he die?"
"He was stabbed, they found him in Newcastle but…"
She stops talking, I think she just realized how stupid her accusation is.
"Lebo, I'm crazy yes, but I don't have superpowers. I can't be in two places at the same time."
"Nozipho, I know you killed him…"
She is calm now, too calm for my liking.
"Hawu, Lebohang…"
"I'm on to you."
She is staring at me, it feels like her eyes are piercing through my soul. I wish I could cry, I really do, just so she sees how much she is hurting me right now. I am hurt by the fact that she thinks I'm capable of murder, she seems convinced too. Lebo has never taken time to understand my condition, why does she jump to the worst possible conclusion? What hurts the most is that it's true, I killed my best friend's fiance. I feel horrible… Where is Sipho when I need him?
5,389 total views, 5 views today